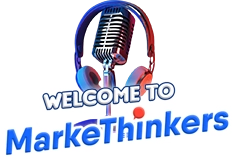 your one-stop destination for insightful podcasts, engaging community discussions, relevant knowledge-building courses, and trendy merchandise! We believe in the power of knowledge, collaboration, and self-expression. Join our community, immerse yourself in captivating podcasts, learn from our courses and explore our unique merchandise. Let's ignite your marketing journey and make your mark in the ever-evolving business landscape. Welcome to the MARKETHINKERS family!
ALL EPISODES
SEASON 1
SEASON 2
SEASON 3
Join the MARKETHINKERS community, where marketers, entrepreneurs, and enthusiasts come together to connect, collaborate, and grow. Engage in lively discussions, seek advice, and share your experiences with like-minded individuals who are passionate about marketing. Expand your network, gain valuable insights, and be a part of a supportive community that empowers your marketing journey. Together, let's inspire and learn from one another to thrive in the dynamic world of marketing.
From trendy t-shirts to handy marketing tools, our merch collection is curated with the marketer's lifestyle in mind.